One great thing about the dead of winter, is the sales you can find on indoor plants. Yesterday, while visiting Lowe's (again feeding my fixation), I brought home three orchids for only a dollar each. THREE!! I couldn't pass it up! That's a whooping $3.00 or you could just think of it as a very cheap center piece. It doesn't get any better than that, unless you find some for a quarter each (doubtful).
Don't skimp on indoor plants. They can really bring any ol' drab room to life! One of my favorite design bloggers, Emily Henderson (yeah you remember her... she's only the most awesome Design Star winner, EVER), gives tips on styling
here
. I plan on taking Emily's advise and re-potting these into something a little bit more interesting, but for now they are definitely helping out my otherwise naked kitchen table.
Here are some interesting ways to

decorat

e

with orchids....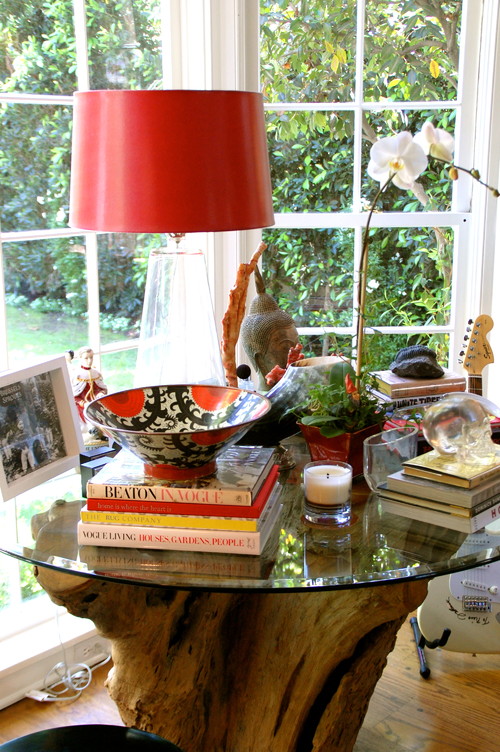 Eclectic Living Room design
by
Los Angeles Media And Blogs
Lisa Borgnes Giramonti
Photo:
Daily Dream Decor
I'm considering adding my collection of orchids to the mantle. Pretty predictable, I know, but it is a no brainer.
Photo: J.K. Place via Villanueva design
Now that my terrariums have made their way to the window seal, the fireplace needs some jazzing up. I'll let you know how it turns out

, but first I need to find an interesting pot!